A Day Spent Listening to 'Hamilton'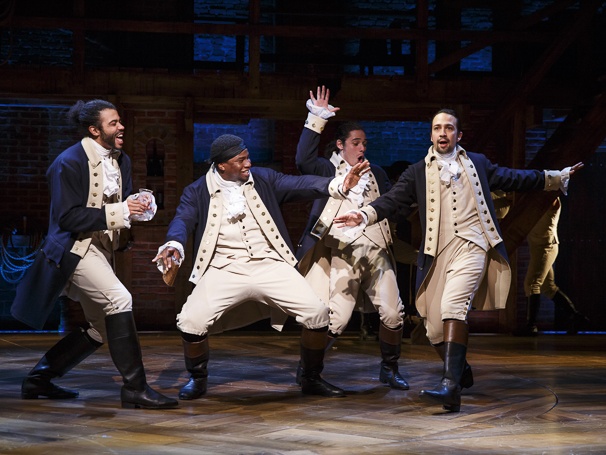 Nora Dominick '17 / Emertainment Monthly Assistant Stage Editor
Every Broadway fan was elated on Monday, September 21 when the Hamilton album became available for streaming on the National Public Radio (NPR) website, three whole days before it would be available for digital download on iTunes and other websites. Emertainment Monthly Assistant Stage Editor, Nora Dominick, takes you through an entire day of listening to two and a half hours of Hamilton music.
9:30 a.m.
I wake up and it's like any other Monday. I have class at 10 a.m., so I'm just relaxing before my hectic day begins. I have been talking about the Hamilton album dropping on Thursday, September 24, for several weeks. All of my roommates know that it's coming, and I made the sweeping declaration that this will be the only album I will listen to for several months. I finally make it onto Twitter only to discover that Lin-Manuel Miranda and the official Hamilton twitter have tweeted that NPR has posted the entire Hamilton cast album. Monday is going to rock.
10:45 a.m.
Taking notes in class. Little does everyone know I just want to rush out of here and listen to the Hamilton album. 11:45 a.m. couldn't come faster.
12:00 p.m.
At this point, I am about fifteen minutes into the album and I can honestly say it's one of the best Broadway cast albums I've heard. I've already listened to "Alexander Hamilton" and "My Shot" three times. Miranda rapping matched with the incredible orchestration is all I want to hear. Leslie Odom Jr. kills it on "Alexander Hamilton," and from here on out, I'm positive I will never listen to anything else again. I'm walking to get lunch and I've just hit "The Schuyler Sisters." This song comes at a pivotal moment in Act One when the audience finally meets the Schuyler sisters, and the album really kicks it into high gear.
2:00 p.m.
I've been listening to the Hamilton album any chance I get—between classes and at any free moment. I've just hit "Helpless" and "Satisfied," two of my favorite songs from Hamilton. Renée Elise Goldsberry and Phillipa Soo kill it on each of these numbers. Soo's soprano voice shines, and this is the first time listeners hear her incredible vocal range. "Satisfied" is one of the strongest tracks on the album—Goldsberry's rapping mixed with her Broadway vocals creates a heavenly combination. She not only belts, but also raps her face off. Goldsberry's a leading lady for the ages, and it's refreshing to see a female character who portrays strength and independence. I am about halfway through Act One of Hamilton at this point.
3:30 p.m.
Finally, I have a free moment again, and I spend it listening to Hamilton. Monday's are a long day for anyone, but it's comforting to go on Twitter and other Broadway sites to see that everyone is having a great day as we collectively take in Hamilton for the first time together. Broadway is a unique experience, and knowing that every Broadway fan is also listening to the Hamilton is something very special. I've hit "Wait for It," and Odom continues to give a Tony Award-worthy performance through this song alone.
5:00 p.m.
We break during class and the headphones are out. Jonathan Groff manages to be hilarious and make a lasting impression as King George III. Groff may not inhabit the stage often, but his work as King George will be remembered by the audience and now listeners. The song "What Comes Next?" is one of his best, and manages to combine authenticity and comedy into one beautiful track.
5:45 p.m.
"Why do you write like you're running out of time?" I have finally finished Act One, which according to NPR, is one hour and twenty-two minutes into the entire Hamilton album. Onto Act Two of Hamilton, and it's already been an exciting journey. The way Lin-Manuel Miranda managed to combine rap with traditional Broadway music is astounding, and this shines through on the album.
6:00 p.m.
Act Two starts with listeners meeting Thomas Jefferson and listening to the first "Cabinet Battle," one of the many highlights of Hamilton. An upbeat number, "What'd I Miss" starts off Act Two of Hamilton and shows off Daveed Diggs' astounding vocal range. Act two hits the ground running, and the rest of the Hamilton album will not disappoint.
6:30 p.m.
At this point, I'm listening to one of the most monumental numbers in Hamilton—listening to Odom sing "The Room Where It Happens." This musical number is one that stands out to me from the seeing the musical, but it's also one of the most pivotal on the Hamilton album. The fact that a track ends with "click. Boom." just sends chills down my spine. As I continue to listen to Hamilton, I hit another "Cabinet Battle," and of course another Jonathan Groff number.
6:45 p.m.
I've hit the pivotal "Burn," sung by the extremely talented Soo, who plays Eliza Hamilton. Her voice shines in this number that simply rides on her pure talent. Not only is this number done flawlessly onstage with Soo sitting alone with just a lantern, but the track makes a lasting impact on the Hamilton album as a whole. "Burn" is sure to become another classic number from Hamilton, and it's all thanks to Soo and her strong, heartbreaking portrayal of Eliza.
7:00 p.m.
I just got to one of Miranda's most poetic numbers in Act Two, "It's Quiet Uptown." This song about Eliza and Alexander's son dying will put a tear to any listener. With the entire ensemble booming during the chorus and Soo, Miranda, and Goldsberry chiming in, this track makes a lasting impression. Dinner will have to be pushed back to finish this album.
7:15 p.m.
"Who Lives, Who Dies, Who Tells Your Story." I have finally finished listening to the entirety of the Hamilton cast album, and what a ride it was. I think it's safe to say that this cast album has shot to the top of the list of "Best Broadway Cast Albums." The final number in Hamilton effortlessly wraps up every storyline and brings this remarkable album to a close. Now onto listening to it for a second time…
Hamilton is currently running at the Richard Rodgers Theatre in NYC. For tickets and more information, visit hamiltonbroadway.com.